TAITTINGER Brut Champagne La Française NV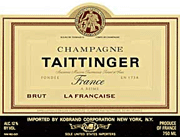 Bought this as a gift that didn't get given. Life's tough. Medium dry with nice tiny bubbles. It tastes like champagne. Not sure I can pick out particular flavors but the blend is great. I would like to taste this beside Moet & Chandon White Star. The finish lingers sweetly on the tongue. $40 at Winn Dixie.
Comparing this to the
Charles Heidsieck champagne
we had at New Years. This is much smoother, less intense and less fruity.
Will buy again
Will give as a gift
Wine Spectator 89, here is what they say:
Toast, honey, peach and citrus flavors come together effortlessly in this balanced, elegant Champagne. The fine mousse adds to the textural component, and this ends on a refreshing note. Drink now through 2010.